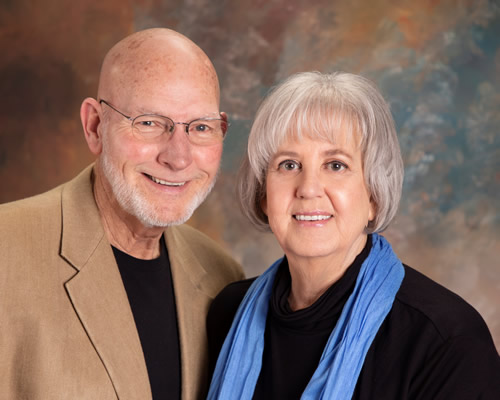 George and Rhonda Stewart are the first couple we have inducted into our Hall of Fame. With a combined commitment of over twenty years to the Senior Wildcatter's; it just seems fitting that they join our Hall of Fame together.
George was born August 25th, 1951, in Sterling Colorado. Rhonda was born May 21st, 1952, in Evansville, Indiana; she and her family moved to Sterling, Colorado in 1962. George Stewart and Rhonda Rideout met in Sterling Junior High, when George was 13. They quickly formed a bond that would stand the test of time. They were married on June 6th, 1970, three weeks after Rhonda graduated from high school, a marriage that stood strong for the next 52 years. Over the course of their 52 years together, their family grew to include two sons, Kelly and Kevin; five grandchildren; and two great-grandchildren.
George and Rhonda stayed in Sterling until July of 1979, when they transferred to Casper Wyoming. As one might expect in the oilfield, there were more transfers to come. In 1983 they transferred to Dickinson, ND; and, in 1990 they transferred to Odessa, Texas. In October of 1993 they transferred back to Casper which became home to this day.
On January 4th, 1969, George began his 46-year career in the oilfield. George worked for Toltek Drilling for a little over 51/2 years. In 1974 George began working for Rucker Acme Tool. Rucker Acme merged with NL Industries; NL Industries sold Acme Tool to WR Grace (Homco); WR Grace sold Homco to Weatherford International. This tour of duty lasted 40½ years.
George retired March 20th, 2015.
During George's 46 years in the oilfield, he was a rough neck; driller; truck driver; shop hand; trainee fisherman; fishing tool supervisor for 15 years; District Manager over Casper WY, Dickinson ND, & Odessa TX, for 12 years; and Technical Advisor 10½ years. Over the years, George trained many fishermen. He put on fishing tool and casing exit training classes for customers, engineers, field personnel, college graduates, and petroleum engineers. Many of these classes were at the Colorado School of Mines, and the University of Wyoming, and Montana Tech.
George also has quite a history with the Wildcatter's and the Senior Wildcatter's. He played in the regular Wildcatter's Tournament approximately 10 years. George joined the Senior Wildcatter's Board of Directors in 2008 and stayed for 14 years: 5 of the 14 years was as Chairman. He always enjoyed being on the Board of Directors for Senior Wildcatter's and playing in the tournament. Rhonda always played a big part during George's time with the Senior Wildcatter's. It was not a policy to take team pictures during the beginning years of the Senior Wildcatter's Tournament. Rhonda was instrumental in launching the tradition of the tournament team pictures; she felt everyone should have a memory to take home with them. She would take the team pictures on Friday, develop them, and put them in envelopes so each player would have them Saturday morning when he/she teed off. This was quite a struggle and took most all of Friday night. Then we changed up and started mailing them out so Rhonda could enjoy the Wildcatter's with everyone else (this was a lot easier on George to).
George enjoys spending time with family. His hobbies include working in the yard on his lawn and flower beds. Golfing is about George's only other hobby currently.
Rhonda's other passion besides family and crafting was the Paradise Valley Christian Church and wanted to be involved in the Imagine More Building Project for the new church. Rhonda wanted to be sure it was handicap-accessible; being confined to a wheelchair, she understood the shortcomings at the Church. Unfortunately, Rhonda will not see this project completed; she passed away last month.
George has met and has made many wonderful friends during his career. Throughout Rhonda's life she was devoted to her family and always considered her family her first priority.