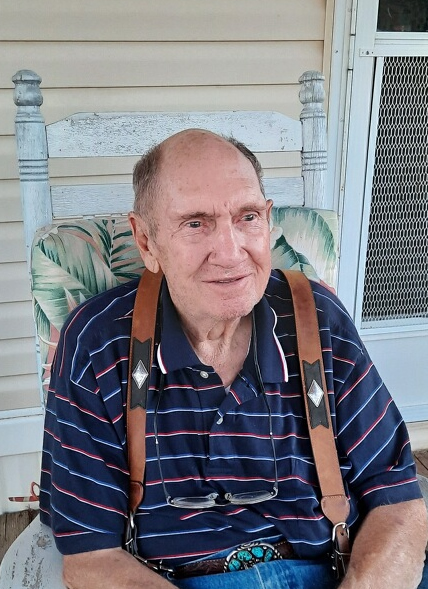 I was raised an oilfield brat, my father was a driller for Noble Drilling Co at Wilson Creek close to Craig Colorado when I was born in 1935. When I was 5 our family lived in a small trailer house alongside a creek in the Wilson Creek field. Dave True was the field foreman for Texaco at Wilson Creek; our parents became friends with the young True family. The next job took my father to Mc Fadden, WY, working as a driller on an Ohio Oil Co rig, drilling in the Mc Fadden oilfield. From Mc Fadden the next stop was the Elk Basin oilfield out of Powell, WY, working for Rocky Mountain Drilling Company. Rocky Mountain Drilling moved their rigs to California, so away we went to Bakersfield, Ca. The move made my Father a Tool Pusher on a steam powered drilling rig. After WWll the next move was to Rangely, Co. as tool pusher for Brinkerhoff Drilling Co. living in a tin shack, out in the oilfield. Brinkerhoff made my father the Canadian Drilling Superintendent, and moved the first Brinkerhoff rig to Brooks, Alberta Canada. In 1950 my father founded Roden Drilling Co, with office in Casper WY. My Father operated is rigs in Wyoming, Montana, and Colorado until his death in 1977.
My first oilfield job was as a roughneck working out of Thermopolis, WY for Carpenter and Trent Drilling Co. the pay was $1.85 per hour for a floor hand. My rig stacked and I went to work as a floor hand for Henry Gist Drilling Co. in the Golden Eagle Oil field.
In April 1956 I moved my wife and baby son to Big Piney, WY starting my Career with Roden Drilling, as a motor man, the rig was drilling for Belco Petroleum Corporation. During my field jobs with Roden Drilling was Driller, relief toolpusher, relief Drilling Superintendent. I moved the family to Casper in 1959, and went back to College at Casper College studying Business Management. I was promoted to Business manager for Roden Drilling Co. in 1961, and held that position until 1967.
The business ventures I started were in 1957, when I began successful Oilfield water hauling trucking business. I the year 1961 I pioneered, designed, built, and operated the first vacuum tank diesel powered trucks in the Rocky Mountain region, as Roden water service. These days all tank trucks operating in the oilfield a vacuum tank trucks! I sold my water hauling business in 1967 to take the position of Vice-President of Roden Drilling Co.

In 1973 I resigned as the Vice president of Roden Drilling Co. and started an oilfield heavy hauling Trucking Co JB Roden Trucking Co. My best customer was Bill Sauer Drilling. Successfully operated the trucking business until 1977 when I sold the Trucking Company.
During 1977 my father passed and I managed Roden Drilling Co. until the drilling company was sold to MGF Oil Co. I started my own Drilling Company JB Roden Drilling Co out of Casper, WY. In 1977. JB Roden Drilling operated five drilling rigs with depth capacities of 3000 foot to 19,000 foot capacity. We worked our rigs in Western Wyoming, Colorado, Utah and Montana. The Drilling rigs were sold to Beard Oil Company in 1985.

I moved to my cattle ranch south of Ten Sleep, WY in fall of 1985, and worked as an Oil Field Consultant.
AS an Oil Field Consultant I worked on well sites from Wyoming to Barrow Alaska. The Barrow Alaska job was as Drilling Superintendent in 1991-92 for the Inupiat Eskimo Corp, The North Slope Borough. I spent two winter drilling seasons drilling gas wells, well completions, Gas gathering systems and gas pipeline to the domestic gas utility system for the town of Barrow. The operations all took place on Ice pads and 16 mile long ice road. This was quite an adventure, as we had to provide all the equipment, tools, electric logging, cementing services, completions tools, casing strings, well heads, tubing, mud de-watering systems for a closed mud systems to protect the Tundra environment. My Barrow job was for Allen and Crouch Petroleum Engineers, Bill Allen, Bill Crouch, and John Fanto, great Engineers! The remoteness and lack of services made the job a real challenge to not have any oilfield catastrophes, and we very successfully completed the program.
The year of 2006 I was hired as President of a small oilfield production, exploration, and drilling rig operation. My job was to start GAS Ventures LLC as an operating Company from scratch, hiring accountants, office staff, production managers, pumpers, engineers, drilling managers. I was responsible for overseeing all of GAS Ventures operations day to day. We operated 6 oilfields, mostly in the Big Horn Basin, and Wind River Basin. GAS Ventures drilled a total of twelve exploratory wells ranging in depths of 3,500 feet to 10,000 feet deep. Completed many wells in the producing fields, and built several Production facilities and tank batteries. GAS Ventures was sold in 2016 and I finally retired after 62 years!!

I played in the first Wildcatters in 1966, and served on the Wildcatters board of directors from 1978 to 1982, and president of the tournament in 1981. I also served on the Casper Petroleum Club Board of Directors, the Casper Country Club Board, President of the Casper Chapter of the AAODC, and Board member of the Wyoming Trucking Association for several years.
Enjoyment is great playing in the SENIOR WIDCATTER'S golf tournament; the Board of Directors does a great job! Sorry I can't be there!